SPIROL Launches New Series of Molded-In Aluminum Threaded Inserts for Plastics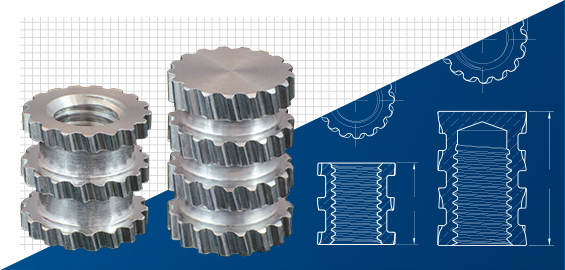 SPIROL is pleased to introduce a new, high-performance series of Molded-In Inserts for plastics assemblies. The rugged design of the Series 63 Through Hole Inserts and Series 65 Blind End Inserts consists of multiple bands of helical knurls to maximize torque resistance, balanced with radial undercuts to achieve high pull-out (tensile) force. These Molded-In Inserts are designed to be placed in the mold cavity prior to plastic injection, and offer exceptional performance due to unrestricted plastic flow into the retention features on the outside diameter of the Inserts.
These lightweight, lead-free Threaded Inserts for Plastics are manufactured from 2024 grade aluminum which provides the best combination of strength, corrosion resistance, machinability and cost. The Series 63 and Series 65 Molded-In Inserts are lead free, 40% stronger than brass, and 1/3 the weight of the same Insert manufactured from brass. Standard metric thread sizes include M4, M5, M6, and M8, and standard inch threaded sizes include 8-32, 10-24, 1/4-20, and 5/16-18.
SPIROL offers a comprehensive line of Inserts for Plastics including Press-In, Self-Tapping, Heat / Ultrasonic and Molded-In styles to accommodate specific performance and installation requirements! Learn more about SPIROL Inserts for Plastics, design guidelines for the plastic components that use Inserts, proper installation methods and performance testing parameters in their full Inserts for Plastics design guide on SPIROL.com.
Involve SPIROL in the design stage of your next project and their Application Engineers will not only recommend the most cost effective Threaded Insert for your plastic assembly, but they will also help make the critical design recommendations between their engineered fastener and your assembly.
Share this post: