Rotor Clip: Celebrating 10 Years of Wave Springs with one TINY announcement
We're celebrating 10 years of manufacturing the world's best Wave Springs this summer with one TINY announcement!
Rotor Clip's proud to announce that we are able to produce wave springs as small as 3mm O.D.!
(That's .118 inches)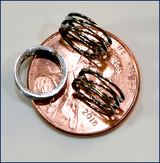 These are the smallest commercially-available wave springs in the market today.
Need something larger? We can currently go up to a maximum 635mm (25 in.) O.D. And as always, Rotor Clip doesn't charge for tooling costs on our coiled product line.
Customization is our specialty, and we have an entire team of Technical Engineers ready to partner with you to determine the right size, load capacity, shape, material or finish to perfectly fit to your next application.
Don't wait - test out our wave springs today. You can request free samples of any in-stock component and test out our wave spring calculator following the links below.
Share this post: