Disc-Lock Safety Wheel Nuts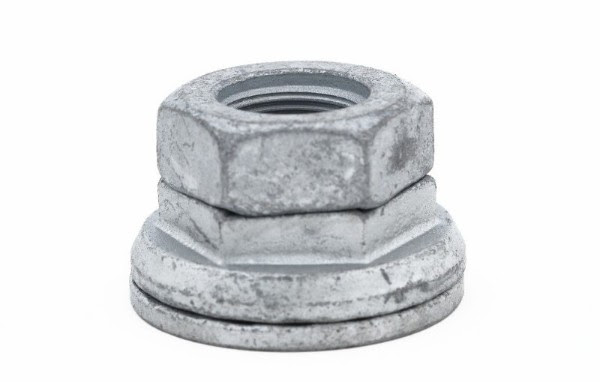 Are you experiencing issues with loose wheel nuts? Our Disc-Lock safety wheel nuts prevent vibrational loosening Utilizing a patented 3 piece design, Disc-Lock safety wheel nuts secure wheels in heavy load and vibration applications, from trash trucks and buses to tractor trailers.
Available in sizes from 3/4 to 7/8 (M18-M22)

Easy to install with standard tools

No retightening needed after installation

Can be used with Class 10.9, Grade 8 bolts

Coated in GEOMET 321, providing up to 720 hours protection in salt spray testing (other coatings available upon request)

Vibration proof according to MIL-STD-1312-7
Do you use materials of multiple or variable thicknesses? If so, CPB and CPN rivet nuts may be the best solution for your application! CPB/CPN parts offer a large grip range, allowing them to be easily used in multiple different material thicknesses. Their large backside footprint provides increased pull out resistance. CPB/CPN parts are designed to be installed in soft materials like plastics without distorting the base material, an ideal solution for your lightweighting initiatives.
Sherex CPN and CPB rivet nuts come in sizes ranging from 8-32 to 5/16-18 (M5-M8), and are available in wedge head or trim head variants. CPB rivet nuts are pre-bulbed for ease of
installation
and can be installed with spin-spin tooling.
---
Sherex's engineering team designed the industry's largest rivet nut product line.

The Challenge:
The OEM was experiencing production bottlenecks and difficult in-field installations due to the use of a welded clip; the clip was frequently damaged during shipping or misaligned during welding.
The Solution:
Sherex created a large size rivet nut with an oversized thread for use with standard step bolts.

Utilizing the rivet nut solution, the manufacturer was able to laser cut holes into the pole, ensuring proper spacing and alignment of the holes.

The elimination of the welding process, the clip, and one of the hex nuts involved in the previous assembly sped up production and made installation a one hand operation, making it much safer and quicker.
The Sherex engineering team is available to assist you with your fastening challenges. Contact us at

[email protected]

or call 866-474-3739 for more information.
Share this post: