NAW Institute for Distribution Excellence Announces Optimizing Channel Profitability: A Playbook to Align Manufacturer– Distributor–Customer Relationships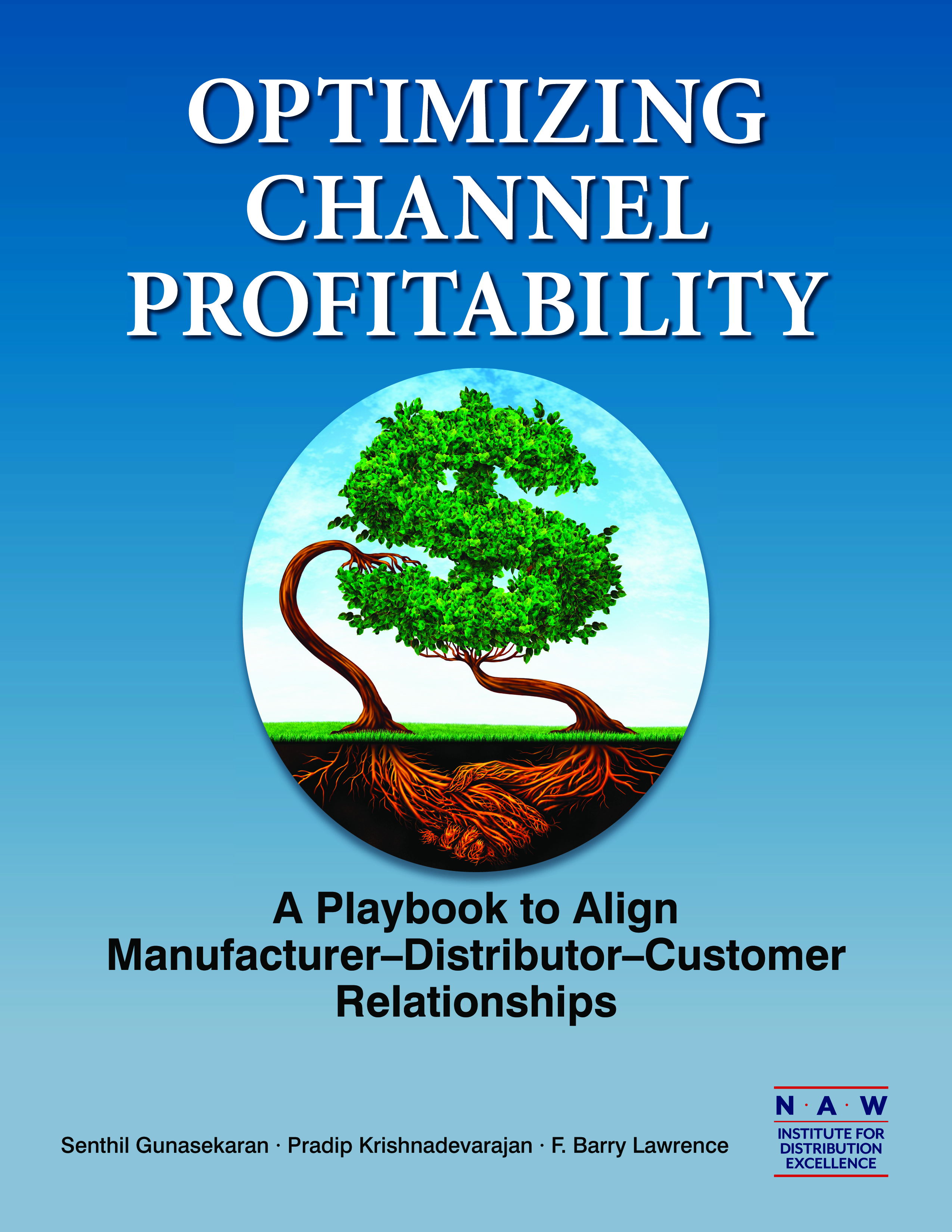 (October 10, 2019, Washington, DC) — The NAW Institute for Distribution Excellence is pleased to announce its newest, groundbreaking research study, Optimizing Channel Profitability: A Playbook to Align Manufacturer–Distributor–Customer Relationships, based on a consortium conducted by Texas A&M University's Global Supply Chain Laboratory. Please go to www.naw.org/ocp or call 202.872.0885 to learn more and to order copies.  Quantity discounts of 15–50% apply when ordering two or more copies.
As manufacturers face new competitive challenges, distributors alter their capabilities, and customers change their requirements, the path forward keeps shifting.

Many manufacturers have not updated their channel policies in a decade, while wholesaler distributors have undergone significant changes in terms of online disruptions by non-traditional competitors, multi-generational workforce dynamics, digital transformation challenges, evolving salesforce structure, and so forth.
Clearly, old assumptions about channel design and management are being challenged. While distributors and their suppliers are busy responding to forces of change from their organizational perspective, are they also looking at the forces of change from their channel perspective? How do distributors align their interests in today's age of disruption and the customer experience–driven economy?
These questions were the driving force behind this groundbreaking research study. The solution does not come from distributors alone or manufacturers alone, but rather from collaborative research. This first-of-its-kind study is based on a consortium made up of multiple distributors (15 distribution firms from six lines of trade) and manufacturers (5 manufacturing firms from four lines of trade) who came together to research and develop solutions. The consortium answered questions both quantitatively and realistically using real-world channel data.
The result is a comprehensive Channel Alignment Framework that presents a menu of creative channel compensation forms that can help distributors and their suppliers develop various channel capabilities that can create value for end customers. The focus is on making a one-to-one connection among a supplier's channel compensation, a distributor's capabilities and customer value, all leading to a process where all three entities can have constructive, objective dialogue rather than subjective, selective fault-finding. The framework ends with linking how distributors can capture value from customers and how it is linked to their financial goals.
Channel collaboration becomes a key competitive advantage when traditional distributor and manufacturer value propositions are under pressure from multiple forces of change. While both partners have an urgent need to rethink their value propositions, the channel alignment framework provides a common ground for them to rethink and redesign their collaborative approach to the market.

Optimizing Channel Profitability includes:
24 best practices on channel design and management from actual distributors and manufacturers that are easy to understand and visually depicted on the accompanying wall map
44 ready-to-implement action steps
38 real-world distributor and manufacturer examples from across the industry
Distributors should use this groundbreaking study and wall map to
Map their current channel strategy and identify both gaps and opportunities
Understand channel forces that they need to manage for channel alignment
Comprehend how the trade-off between channel partner goals drives channel profitability
Examine manufacturing industry dynamics from a channel management standpoint, in terms of four dimensions: market power, mindshare, value share and digital trends
Uncover and remove channel blind spots in their channel planning and execution
Develop a collaborative and creative channel mindset, and proactively think about channel alignment as competitive advantage rather than just react to market forces
Make the Channel Alignment Framework map a part of their channel meetings and shape their channel influence for collaboration and relevance
Manufacturers should use this groundbreaking study and wall map to
Assess the five aspects — mindshare, market power, value share, ownership and digital trends — of their distributor relationship!
Mike Medart, President and CEO of Medart Engine & Marine, said this after reading Optimizing Channel Profitability: "This Optimizing Channel Profitability book is a highly effective guide for distributors in any line of trade to use to start the process of optimizing channels and getting paid for real, understood value that distributors provide. I found a number of action steps and ideas that relate to my industry, so I plan to ask my division leaders to digest this study and then we'll all strategize as a team on which actionable items we'll move forward with right away."

This research study is the eighth one created through collaboration between the NAW Institute for Distribution Excellence and Texas A&M University's Global Supply Chain Laboratory—two leaders in wholesale distribution education and training. These organizations joined forces in January 2009 to launch an alliance dedicated to furthering the understanding and application of
best practices in wholesale distribution. Through this alliance, the Council for Research on Distributor Best Practices (CRDBP) was created. The mission of the CRDBP is to create competitive advantage for wholesaler-distributors through development of new industry research, educational programs, and publications to deliver that research and knowledge to industry
executives and their management teams. Learn more about the CRDBP and the other consortia at www.naw.org/crdbp.
The other seven studies, which all top NAW's best sellers list, are:
The National Association of Wholesaler-Distributors (NAW) is a federation of wholesale distribution line of trade international, national, regional, state, and local associations and thousands of individual firms that collectively total more than 30,000 companies.
The role of the NAW Institute for Distribution Excellence is to sponsor and disseminate research and knowledge in strategic management issues affecting the wholesale distribution industry.
Share this post: