G.L. Huyett has taken much of the cost and hassle out of obtaining and managing Material and Compliance Certifications by making them available for download directly in their customers' account order history at http://www.huyett.com. This makes it easy to locate the exact order, item, and lot for which the certificate is required and then quickly download it for easy printing, faxing, or e-mailing.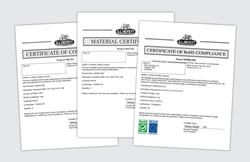 G.L. Huyett, an ISO 9001 certified manufacturer, master distributor, and importer of non-threaded fasteners, grease fittings, and engineered fasteners, is excited to announce the release of a new enhancement to their e-commerce website that is sure to be a welcome benefit to their customers: Free Material Certifications, Certificates of Compliance, Certificates of RoHS/REACH Compliance, and Country of Origin available for Download at http://www.huyett.com.*
The ability to obtain Lot Level Material, Compliance, and RoHS/REACH Certificates is increasingly becoming a requirement when selling fasteners in today's market. These documents certify that a material's chemical and physical properties are in compliance with regulations or identify the country where an item is manufactured.
"It is becoming increasingly difficult for distributors to maintain, process, and track all required certifications. As a Master Distributor and Manufacturer, we have seen the challenge from all sides. To help our Distributors reduce the hassle and cost of obtaining and managing Material, Compliance, and RoHS/REACH Certifications we've made them available for download in our customer's order history," explains Greg Tabor, the company's VP of Marketing. "For years we responded to requests for Certifications by processing them as they came to us which often caused delays and added costs for our customers. In addition, most of the time there was a per certification charge that was not always accounted for during the quoting process."
That process has been automated and simplified. G.L. Huyett now provides all Lot Level Compliance and RoHS/REACH Certifications at NO CHARGE, and Free Material Certifications for more than 75% of the parts they sell. And, they are all available for download on the Company's e-commerce website.
"We've worked for over a year to bring this solution to the market and the response has been overwhelming. We knew that this was a problem in the market, but the amount of downloads is far exceeding our expectations. There are a handful of exceptions, but for most of our inventory, we have Material, Compliance, and RoHS/REACH Certifications at the Lot Level along with Country of Origin added to the Certificate of Compliance," explains Tabor.
G.L. Huyett attempts to provide or have available upon request Material and Compliance Certifications for all of their products to the Lot Level, but this is not always possible. Many manufacturers will only provide certifications upon the initial shipment of the product, which makes it very important to know the requirement up front.
To find out more about the different types of certifications available, please visit: https://www.huyett.com/promotions/certs/.
About G.L. Huyett
Established in 1906 by Guy Huyett in the "other Minneapolis," the company is one of the oldest continuously operating businesses in Kansas. Founded on the production and distribution of machinery bushings, in the 1990s, entrepreneurial owners Tim and Carol O'Keeffe recognized huge potential in offering low order minimums, fast shipping, and expanding product offerings to a complete inventory of power transmission components including MAK-A-KEY™ and MAK-A-PIN™ precision key stock, pins, retaining rings, grease fittings and accessories, engineered fasteners, bushings, washers, assortments, and tools.