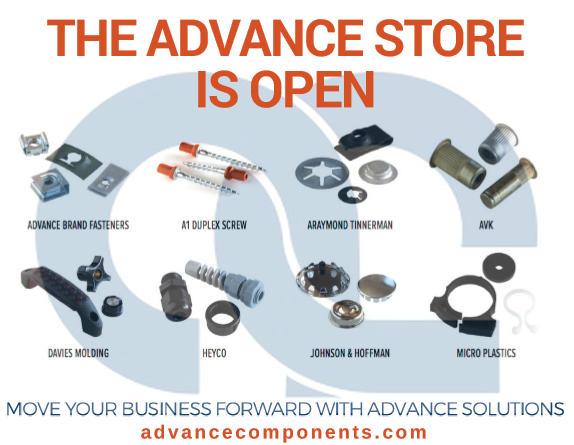 A Message From Advance Components
Carrollton, TX – August, 2016 – To provide customers with the ability to order their full range of products 24 hours a day, seven days a week, Advance Components is launching a newly designed website and the Advance online store. Customers using the new online store will be able to browse Advance's extensive inventory, place and track orders, view their purchase history, and more.
The Advance Store is stocked with ready-to-ship products including products from A Raymond Tinnerman, AVK, Micro Plastics, A1 Duplex Screw, Davies Molding, Heyco, Johnson & Hoffman and Advance Brand Fasteners.

"We heard from our customers what they wanted in an online store, and we have delivered," said Advance president Gary Cravens. "We have spent months refining our new website that now allows buyers to shop and buy on their own schedule, and take advantage of the instant stock and value-added services we offer."
The website and online store will enhance:

Purchasing – Save time and place orders online, track shipments, view order history, expedite orders, and same day shipping.

Accounting – Stay up-to-date with the ability to view "live" invoices and statements, and quickly print copies on demand.

Sales – Increase sales effectiveness by instantly checking product availability, specifications and net pricing. The Advance Store is perfect for distributors that want to spend more time with their customers and less time tracking down information.

Customer Service – The Advance sales team is always available with superior product application support and can also assist in setting up online accounts.
For more information, please visit advancecomponents.com or call 972-446-5500.
Advance Components
is a master-stocking distributor of high-quality specialty fastener products. Advance offers its customers value added engineering-based solutions and services and the highest-quality products. Our headquarters and sales offices are located in Carrollton (Dallas), TX. Contact us anytime at: 972-446-5500 or at
www.advancecomponents.com
.