Watson Woodrow Stanley Obituary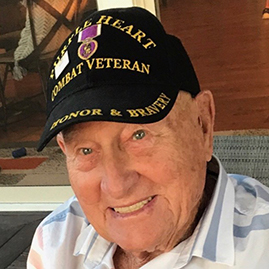 Watson Woodrow Stanley, 96, Purple Heart Recipient and a resident of Howell, MI passed from this life Monday, May 18 of natural causes.
Watson was preceded in death by his wife Bette Ann Eckert (deceased in 1997) and will be sorely missed by his wife Elizabeth (daughter Alicia).  He was the loving father of 3 children, William (Barb) Stanley, Robert (Lana Kenny) Stanley and Judy (Jim) Cash. Watson cherished his 10 grandchildren and 9 great grandchildren. He was the brother of Mae (Max) Stevens and Patricia (David) O'Donnell.
Born in Detroit in 1924 to William Benjamin Stanley and Cora Watson Stanley, he made the most of every minute of his eventful life.  He grew up during the great depression selling newspapers and raising chickens to raise money for the family. At age 18 he joined the Army and proudly served his country fighting courageously as a Master Sargent Tank Commander in charge of 25 men, mostly behind enemy lines in Patton's 3rd Army. 
From snapping every tendon is his left leg at the age of 12, to getting shot in Europe on May 8, 1945, V-E Day and the last day of World War II, he never let diversity stand in his way, and he had the uncanny knack of turning every setback into a triumph.  He was an avid, and most accomplished storyteller, and would keep his kids and grandkids spellbound by the hour when enticed to let his vivid imagination and almost photographic memory have the full sway of his narrative prowess.  A graduate of the Detroit Institute of Technology after the war, he married Bette Ann Eckert of Royal Oak and fathered three children, all of whom absolutely adored him.  He started his own business, Darling Bolt in Warren Michigan, in 1958, and when that sold to a partner, began Stanley industries in 1967.  Both businesses still exist to this day.  He was that rare breed that only saw the good in everybody, and was therefore beloved by everyone who met him.  
Watson was an active member of Shepherd of the Lakes Lutheran Church in Brighton, MI and was dedicated to bible study and worshiping, and would sing his praises in worship with gusto! 
Watson' s final resting place will be at the Great Lakes National Cemetery in Holly, and the family will plan a Celebration of Life for Watson in late summer. 
Memorial donations can be made to:
Shepherd of the Lakes Church, Brighton MI https://sotlchurch.churchcenter.com/giving
WWII Legacy Memorial at Memorial Park, Royal Oak. https://michiganww2memorial.org/
Share this post: