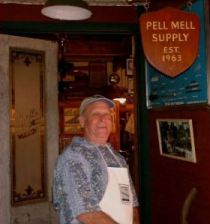 MEL KIRSNER MEMORIAL SCHOLARSHIP FUND

As an integral part of the fastener community, during his life Mel Kirsner earned the respect and admiration of all of us involved in the fastener industry. Mel started in the industry in 1958 and founded Pell Mell Supply in 1963. During his career he was also a partner in Fresno Bolt, Nevada Bolt & Nut, Non Ferrous Manufacturing, Bolt & Nut Export, Action Value & Fitting and Centennial Fastener.
As a founding member of the Western Association of Fastener Distributors, Mel valued not only traditional education but also in the shared knowledge and experience of those around him. Mel's love of history and respect for those that came before him lead him to an impressive collection of artifacts and memorabilia. In 2000 the collection had grown so vast Mel decided to share it with us all and opened Mel's Fastener Museum. Heartbreakingly the 2003 wild fires in Julian, CA destroyed the museum and the collection was lost forever.
Upon his death Mel performed one more act of generosity for all of us in the fastener industry and that was he left money in his will to what is now the Pacific West Fastener Association scholarship program.
Education Fund Policies
Pac-West will make funds available to assist the education and training of member company employees, their spouses or domestic partners, and their children (natural or step).
Funds will be contributed by member companies and individuals as donations or as sponsors of Pac-West events.
Matching funds will be available from the Pac-West treasury with an agreed-upon maximum cap.
Scholarships
Employees of Pac-West member companies, who work at least 20 hours per week and have been with the company at least two years (as of the application deadline date), their spouses, and their children (natural or step) are eligible to apply.
Applications must be submitted on current Pac-West scholarship application form and will be evaluated on a point scale based on academic achievement, financial need, academic achievement, and the application and essay.
Applications will be reviewed by the Scholarship Committee and recommendations will be forwarded to the Pac-West Board for approval.
Awards will be payable to the college or university in which the student is enrolled and may be granted for all or part of the funds requested.
You must complete all of the form in order to apply for a scholarship from Pac-West. If you leave any of the sections blank, it could count against you.
All applications for scholarship awards must be submitted by April 15.
Transcripts for your two most recent academic years are required and also are due by April 15. Please send them to:
Pacific West Fastener Association
10842 Noel St. #107
Los Alamitos, CA 90720
Training Assistance
Employees of Pac-West member companies, who work at least 20 hours per week and have been with the company at least two years are eligible to apply.
Pac-West will provide financial assistance for non-degree programs that provide job-related training.
Individuals may apply for reimbursement of a training expense if it has been completed within six months of the time the application is made and if it is not reimbursable by his/her employer. A management representative of the Pac-West member company must verify that the expense is not covered by that company's policies.
Applications must be submitted on current Pac-West Training Assistance application forms and must be submitted with a brochure describing the training program. If the program has been completed, verification of completion and of payment also must be submitted.
Awards will be made payable to the organization which conducts the training or to the individual (if applying for reimbursement). Training assistance awards may be granted for all or part of the training expense.
Examples of programs eligible for training assistance awards are: certificate programs, Fastener Training Institute® classes, community college courses, university extension programs, professional skills development training, and seminars in fastener technology, accounting, sales, management, inventory control, computer training, and languages. These are examples and not an inclusive list of the type of training eligible for awards.
The application deadline is April 15.
Scholarship Committee
The Pac-West Board will select one Board member to be on the Scholarship Committee. At the Pac-West annual business meeting, requests will be made for nominations and/or volunteers to add two or more members to the committee. Committee membership will also be open to any Pac-West members that are passionate about education and the scholarship concept.
Click here for Scholarship Application Form
Click here for Training Assistance Application Form
Note: on the application forms, underlined fields have additional information available by hovering your cursor over the field.